In the auto theming article, we learned that calling thematic_on() with no arguments applies auto coloring and that calling thematic_on(font = "auto") adds in automatic fonts. After reading that article, you may be left thinking, "What if auto theming doesn't theme stuff exactly the way I want it to?" This article helps address that question by demonstrating how to do customized "high-level" theming with thematic as well as "lower-level" theming targeted specifically at ggplot2, lattice, and base graphics. In other words, we'll first learn how to use thematic's theming interface to set global defaults, then learn how to override those global defaults in plot-specific code.
Theming with lattice
thematic also works with lattice; however, beware that theming decisions are made so that lattice plots look somewhat similar to ggplot2 (i.e. panel background is a mixture of bg and fg instead of just bg). Also, similar to base graphics, lattice doesn't have a global distinction between a qualitative and sequential colorscales, so sequential isn't used in lattice. Instead, for consistency with lattice's default, the "regions" colorscale interpolates between qualitative[1], bg, and qualitative[2].
(Btw, for lattice, accent may be of length 2. The first is used for 'stroke' and the second for 'fill').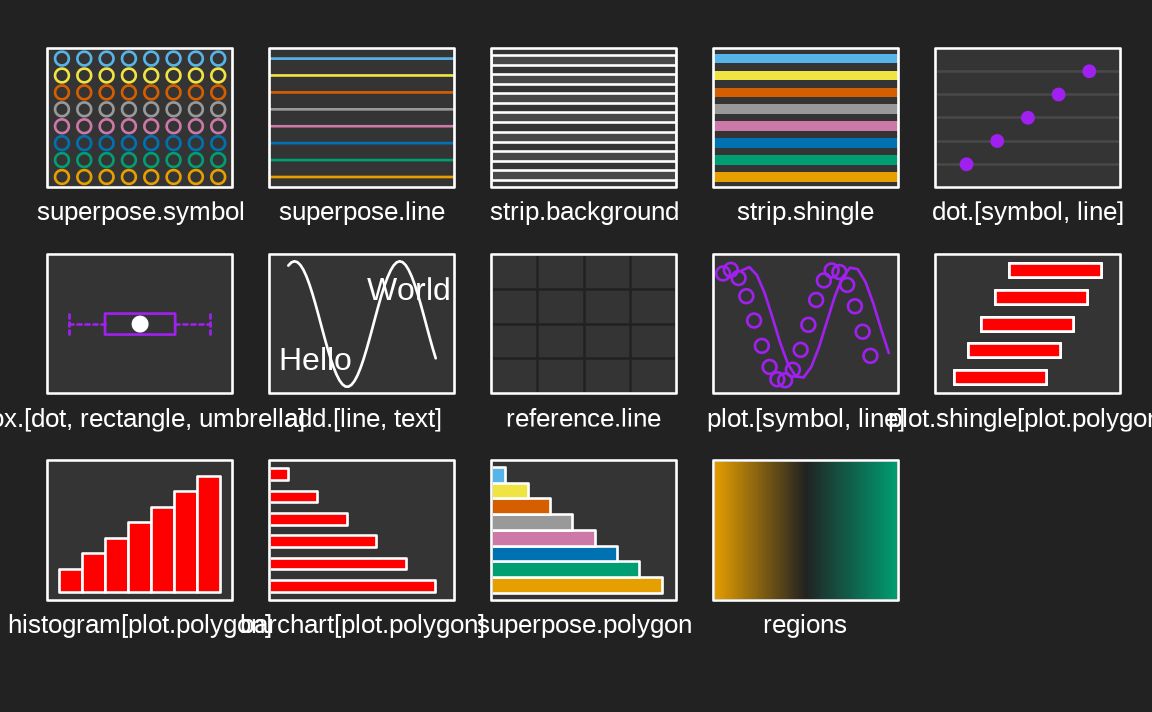 It might seem strange to have bg define the middle of the color gradient, but it's intentional so that it works well with lattic::contourplot() (or other cases where text wants to be placed on top of the gradient):

library

(

stats

)


attach

(

environmental

)




ozo.m

 

<-

 loess

(

(

ozone

^

(

1

/

3

)

)

 

~

 

wind

 

*

 

temperature

 

*

 

radiation

,
       parametric 

=

 c

(

"radiation"

, 

"wind"

)

, span 

=

 

1

, degree 

=

 

2

)




w.marginal

 

<-

 seq

(

min

(

wind

)

, max

(

wind

)

, length.out 

=

 

50

)




t.marginal

 

<-

 seq

(

min

(

temperature

)

, max

(

temperature

)

, length.out 

=

 

50

)




r.marginal

 

<-

 seq

(

min

(

radiation

)

, max

(

radiation

)

, length.out 

=

 

4

)




wtr.marginal

 

<-

 list

(

wind 

=

 

w.marginal

, temperature 

=

 

t.marginal

,
        radiation 

=

 

r.marginal

)




grid

 

<-

 expand.grid

(

wtr.marginal

)




grid

[

, 

"fit"

]

 

<-

 c

(

predict

(

ozo.m

, 

grid

)

)


contourplot

(

fit

 

~

 

wind

 

*

 

temperature

 

|

 

radiation

, data 

=

 

grid

,
            cuts 

=

 

10

, region 

=

 

TRUE

,
            xlab 

=

 

"Wind Speed (mph)"

,
            ylab 

=

 

"Temperature (F)"

,
            main 

=

 

"Cube Root Ozone (cube root ppb)"

)


detach

(

)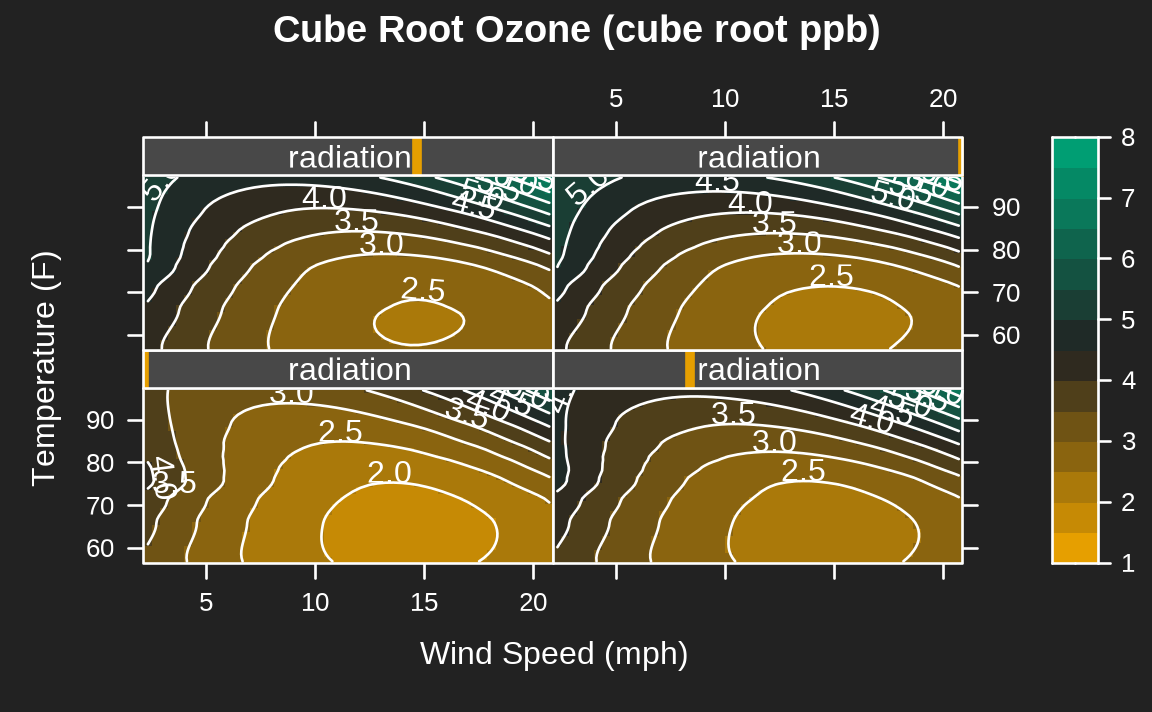 Theming with base
Similar to lattice, base R graphics doesn't have a global distinction between a qualitative and sequential colorscales, it just has palette() (which is closest, semantically, to qualitative):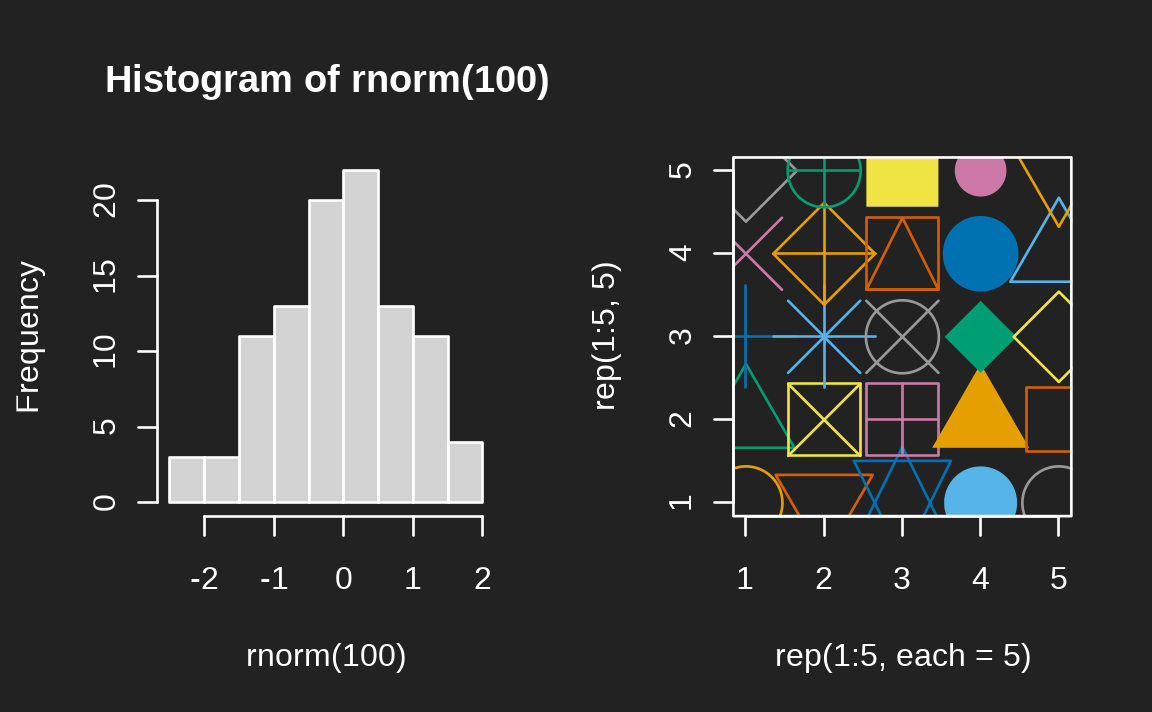 However, do know that you can supply the current sequential colorscale to individual plotting functions by doing something like col = thematic_get_option("sequential"):