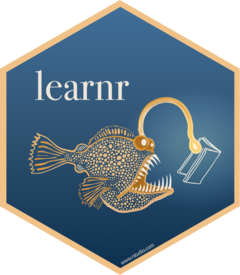 Contributing
Source:
.github/CONTRIBUTING.md
We welcome contributions to the learnr package!
To submit a contribution:
Fork the repository and make your changes.

Ensure that you have signed the individual or corporate contributor agreement as appropriate. You can send the signed copy to contribute@rstudio.com, cc'ing barret@rstudio.com.

Submit a pull request.
We generally do not merge pull requests that update included web libraries (such as Bootstrap or jQuery) because it is difficult for us to verify that the update is done correctly; we prefer to update these libraries ourselves.