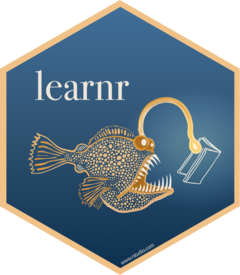 learnr v0.11.0
Garrick Aden-Buie
Source:
vignettes/articles/releases/learnr_v0-11-0.Rmd
learnr_v0-11-0.Rmd
Intro
We are happy to announce that version 0.11.0 of learnr has arrived at a CRAN mirror near you. This release collects many large and small improvements to the learnr package, all with the goal of making it easier to create interactive tutorials for teaching programming concepts and skills.
Read on for an overview of the changes in version 0.11.0, or review the changelog for a full list of updates. Use install.packages() to install the latest version of learnr, which includes demonstrations of many of the new features.
learnr speaks more than R
learnr tutorials are a great way to teach others R: it's in the package name, after all. And thanks to R Markdown's flexibility, learnr is a great way to teach other programming languages as well, using the spoken language of your choice!
Internationalization
learnr now allows tutorial authors to choose the words or language used for learnr's UI elements using the language argument of the tutorial format. We are very grateful for the contributions of a number of community members to allow learnr to include out-of-the-box support for the following languages:
You can choose one of the above via the language setting in your tutorial's YAML frontmatter:
---
output:
  learnr::tutorial:
    language: es
runtime: shinyrmd
---
The language chosen for the tutorial is passed to the R session used to evaluate exercise code, so that translatable messages from R will also be presented in the specified language (thanks Alex Rossell Hayes).
In addition, you can customize the words displayed on specific UI elements using a named list. For example, the default text used on the "Run Code" button in Spanish is Ejecutar código. You can use the Spanish language translation and modify this particular translation using a named list:
---
output:
  learnr::tutorial:
    language: 
      es:
        button:
          runcode: Ejecutar
runtime: shinyrmd
---
You can learn more about internationalization features and the full syntax for customizing the language used by learnr in the internationalization vignette.
We would love to support more languages and would happily welcome your contribution.
Support for additional programming languages
In addition to spoken languages, learnr is now better at running code in programming languages other than R. The biggest improvement is for SQL exercises, where learners can execute SQL queries on a database. This was previously possible, but now tutorial authors can use grading packages like gradethis to grade the tables returned by the student's queries. You can see this in action using run_tutorial("sql-exercise", "learnr") (SQL demo online version).
learnr also includes UI improvements in the interactive exercise component for other languages, including syntax highlighting and basic auto-completion for exercise code in languages such as Python, JavaScript, Julia and SQL. Try run_tutorial("polyglot", "learnr") (polyglot online version) to see several programming languages in use in the same tutorial.
For exercise checking, learnr communicates the exercise engine to exercise-checking functions via a new engine argument that should be included in the exercise checker function signature.
Exercises
Beyond expanded language support, interactive exercises and questions in learnr tutorials have received a number of updates and improvements.
Questions
This release of learnr includes a new question type, question_numeric(). The numeric question type is a complement to question_text() when a numeric answer is required.

In general, question answers are specified with the answer() function, but these answers can only be a single value, which has limited applicability in text and numeric questions.
Now, authors can use answer_fn() to provide a single-argument function that takes the student's submitted answer and determines if their submission is correct. This allows authors to check a range of values or answers at once.
Thanks
We are hugely thankful for the 101 community members who have contributed pull requests, submitted translations, or reported issues since our last release. There are many more contributions and updates to this version of learnr that aren't covered in this post; be sure to check out the full list of changes.
Thank you also to the previous maintainer of learnr, Barrett Schloerke! (learnr is now maintained by me, Garrick Aden-Buie.)
🙏 Big thank you to all of our contributors:
@acarzfr, @acastleman, @adisarid, @agmath, @AlbertLeeUCSF, @andysouth, @annafergusson, @assignUser, @batpigandme, @bbitarello, @beatrizmilz, @bhogan-mitre, @bjornerstedt, @blaiseli, @Brunox13, @C4caesar, @caievelyn, @cderv, @chendaniely, @choonghyunryu, @chrisaberson, @coatless, @ColinFay, @cpsievert, @cswclui, @czucca, @davidkane9, @dcossyleon, @ddauber, @deepanshu88, @dfailing, @dmenne, @dputhier, @DrAtzi, @drmowinckels, @dtkaplan, @elimillera, @elmstedt, @emarsh25, @enoches, @ericemc3, @ethelpruss, @gadenbuie, @gaelso, @garrettgman, @gdkrmr, @gtritchie, @gvwilson, @helix84, @hyigit2, @ijlyttle, @indenkun, @jakub-jedrusiak, @jcheng5, @jennybc, @jhk0530, @joe-chelladurai, @johnbde, @jooyoungseo, @jtelleriar, @jtransue, @kaisamng, @KatherineCox, @kendavidn, @kevinushey, @lorenzwalthert, @ltl-manabi, @MAGALLANESJoseManuel, @MaralDorri, @markwsac, @MayaGans, @meatballhat, @mikelmadina, @mine-cetinkaya-rundel, @mpjashby, @mstackhouse, @mutlusun, @NinaCorrelAid, @nischalshrestha, @NuoWenLei, @petzi53, @plukethep, @profandyfield, @psads-git, @pseudorational, @RaymondBalise, @rossellhayes, @rundel, @schloerke, @shalom-lab, @shalutiwari, @siebrenf, @SilasK, @stragu, @themfrees, @tombeesley, @trestletech, @tvedebrink, @vnijs, @wch, and @yabellini.